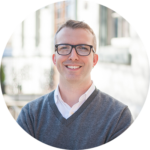 A well-rounded and versatile creative professional, Chris conceptualizes innovative identities while simultaneously creating intuitive, engaging, and brand-consistent experiences across categories and platforms. While a majority of his skills fall within visual design for digital, print and brand identity, his proven expertise in eCommerce marketing for sites built on Magento, WordPress and Shopify Plus have made him a well-rounded designer and better cross-functional partner.
In 2014, after 10 years as a corporate graphic designer, Chris entered the competitive eCommerce landscape by joining Jofit, a luxury apparel brand in the suburbs of Philadelphia. It was there that he dove head-first into the world of digital marketing and played an integral role in launching their Magento-based eCommerce website, growing the brand and designing the collateral that would drive conversions and acquire new customers. In Oct 2016, he helped open their flagship brick & mortar location in Jupiter Fl, and second location in Newport Beach, CA.
Chris is passionate about design education, which led him to teach Advertising Art Direction at Temple University as an Adjunct Professor from 2015-2017. Teaching at night and brand building during the day, this role provided valuable insight and experience in directing young design professionals, students, and in-house creative teams.
In Sept. 2017, Chris joined Boathouse Sports as Director of Marketing. His experience at Jofit gave him the experience and insight to drive qualified traffic, acquire new customers and increase conversions through marketing strategy and UX/UI design of their Shopify Plus website.