How Playing in a Garage Band Made Me a Better Marketer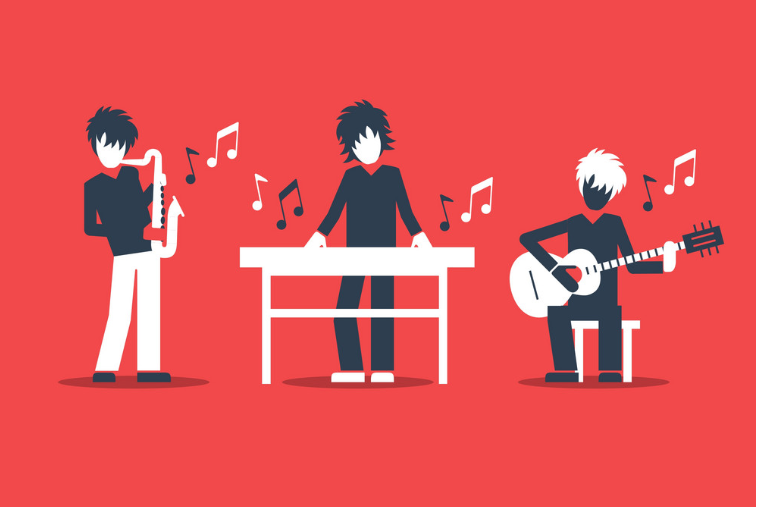 Everything I know about marketing I learned playing in a garage band. Well, maybe not everything…but marketing as a strategy, marketing to get your product between your customer and the competition is something I've been doing since I was a 12.
Defined by the American Marketing Association as "the activity, set of institutions, and processes for creating, communicating, delivering, and exchanging offerings that have value for customers, clients, partners, and society at large" the launching point towards my adult career came unknowingly from the rich music scene of the Philadelphia suburbs in the late 90s Neshaminy School District. Neshaminy in-particular because I was a part of an amazing local music scene that cultivated an environment that produced insane talent and creativity in kids that would later grow up to become professional, well-known musicians and artists.
If I were to ask 90's punk rock me what I'd be when I grew up, I'd say play in a rock band, or be an artist–definately not a Digital Marketer. I didn't even know what marketing was back then. But I'm glad I got here, however it happened. And although becoming a "professional marketer" wasn't in the original plan, its a skillset that I've been developing and enjoying since I designed my first punk rock show flyer back in 1997.
Classic Communication Using Printed Show Flyers
At the risk of dating myself, when I was playing in bands the internet was new and social media didn't exist. So if you wanted people to see you play, you had to get the word out in print. Designing Show Flyers in Philly back in the 90's was truly an art form. Bands would design their own logos, and using illustration, art, mixed-media collages, typography or all of the above to create some very interesting and unique flyers. My friends and I still have many of these show flyers, proving that they were more than just a valuable piece of marketing communication, they should also be considered art because that Xerox'd piece of paper holds meaning.
With the exception of a just a few, I was usually the guy in the band designing the flyers. I loved designing flyers. But what came next was the real fun — handing the flyers out at shows to raise awareness, grow our brand, and get people to act.
Getting The Word Out Before Social Media Existed
Once designed, the band would take the original flyer to Staples or Officemax to make copies. $0.05 a copy was a fortune to spend on marketing for a 14 year old. We'd take the copies to whatever show for whatever band was playing to hand out. Before Facebook Ads and their precise targeting, this was the closest we could get. We knew that if people were going to see this band play then its likely they'd dig our band; old school version of a lookalike audience. And even if they didn't end up attending the show at least now they've heard of us.
We'd leave the show before the last song to get a good spot outside the exit to spread our message to all the punks and hardcore kids that would follow. This sort of face-to-face interaction is the true "social media" of yesteryear, allowing advertisers to engage with consumers directly and receive feedback…even if that feedback was "I heard you guys suck".
One of my bands did a reunion show in the age of Facebook and we did a Facebook Event Invite. It was so impersonal, so boring. I felt bad for the kids today that use social to promote events and will never understand the art of old-school printed flyers, which inspired me to design my first show flyer in at least 10 years, using the same method I'd perfected in 1997.
Web Design Using The Hilariously Awful Geocities Platform
It must've been sometime around 1999 when one of our friends helped us with a website. The URL was something horrendous like www.geocities.com/99723/bandname/myband.com – there was definately no consideration for SEO in those days. What's worse is that URL is what we would advertise in our demo tapes and CD's, and was even printed in some fanzines. Complete with horrendous RGB colors, blinking fonts, and probably a twinkling star background, I'm glad that I couldn't find any record of this site being live anymore.
The Major Benefit Of Applying A Punk Rock Mentality To Brand Marketing
I recently stumbled across a blog post over at brixtoncreative.com where the author uniquely related Punk to the business world.
"Think back to your high school days. Remember that group of hardcore Punk Rock kids that always roamed the halls, seemingly not caring about a thing except how many band patches they could have safety pinned to their tattered denim vests? The ones who made sure they always had enough hair gel on hand for any type of mohawk malfunction? In fact, I bet you can even remember most of their names to this day too."
But trying to remember the name of the person 2 lockers down wasn't as easy. Why? Because the Punk Rockers were doing something different. They stood out. While most kids were following the norms, the punks went in the exact opposite direction of the crowd which is what makes them so memorable.
This is the approach you should be taking with your business. You need to be doing something that sets you apart from your competitors. Something that makes you memorable. Something that makes you Punk Rock.